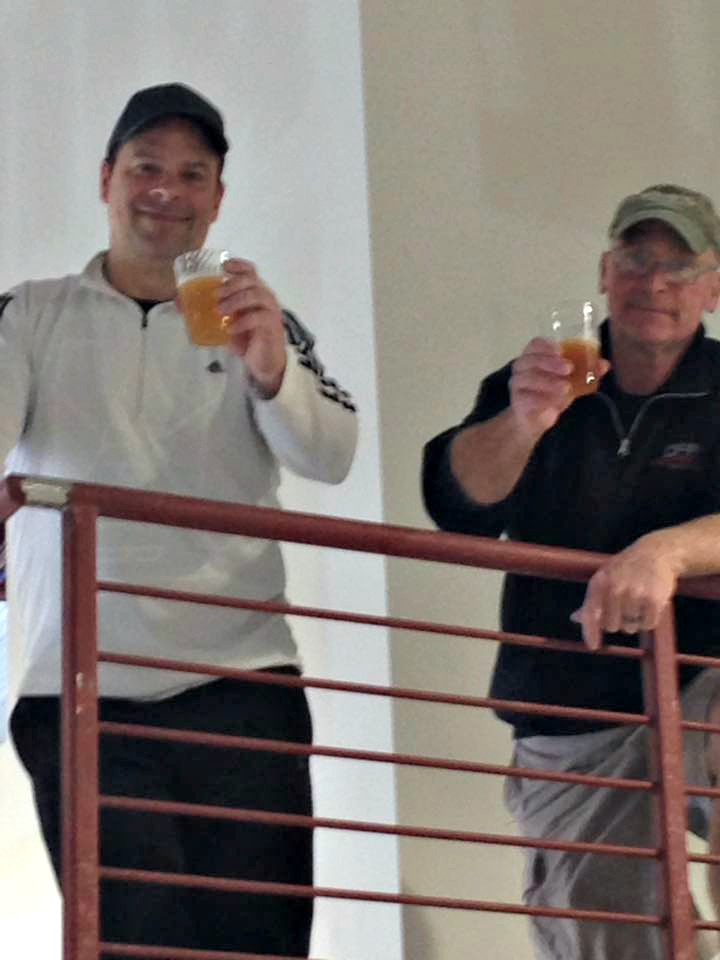 Off Square – On Point
At Off Square Brewing we strive to be just that–off square. We think and brew outside the box. Our tastes are eclectic, just like our beers. The passion of exploration and imagination will come through in each batch we brew, and we hope you want to experience that with us. Sometimes it's crisp, clean flavors; sometimes it's a complex and wild ride. We pride ourselves on attention to detail and strive for each beer to be on point.
Remember…Life's a journey; bring beer.
Our Story
Owners Phil & Dave have been home brewing for a combined almost 4 decades, and after brewing together for 3 years, are ready to take their hobby and turn it into their careers. They started out on a 5-gallon system, but have upgraded to a 1 bbl system. Now, they are ready to take on brewing for the masses. Their beers have won various awards in local competitions.
With a degree in biochemistry combined with a passion for craft beer, Dave is ready to brew. He is passionate about the local brew scene and has personal relationships with many of the breweries in the area. He is a member of the local home brew club and has developed over 35 of his own beer recipes encompassing all beer styles. Dave has been an active member of the NIBS (Northwest Indiana Brewing Society) brewing club since its inception. The club recently won club of the year in Indiana.
Phil's construction experience, along with over 17 years of home brewing, gives Off Square a leg up. Without his construction superintendent expertise, the brewery would not be standing today. His knowledge and relationships with area tradesmen have played an integral role in the building coming to fruition. His almost two decades of brewing give another unique perspective on the Off Square brand, and he looks forward to sharing that with the people of Northwest Indiana.
Our Staff
Taproom Manager Rod MacKenzie
Rod has honed his chops in the bar and restaurant industry for over 20 years, fine-tuning his skills at an area country club, casino, local restaurants, and a downtown Chicago hotel. With these ventures, Rod realized that beer was supposed to taste good and explored different styles. Being an avid reader, he learned more and more about beer and decided his next step was to take the first level Cicerone test and became a Certified Beer Server. Outside of work, you can find him spending time with his beautiful wife, Melanie, taking day trips to Michigan breweries, or hanging out with friends at any of the local breweries and brew pubs. He has suffered through many years of Chicago Bears teams, coaches, and quarterbacks, and passionately supports all Chicago sports teams. If you see him, stop him to talk about his favorite topic…beer!
Taproom Manager Tae Black
Tae is originally from Portage, Indiana, but now calls Valparaiso home. Before starting in the service industry, she worked at a florist for almost 9 years. Prior to Off Square, she began her brewery career as a hostess at Greenbush and quickly worked her way to management. Her appreciation for craft beer started with the encouragement of her husband Dave–an accomplished brewer of SW Michigan. An honorary member of NIBS, Tae's favorite beer styles include sours, saisons, and other Belgian beers. If she's not in the taproom, you can find Tae at home with her husband and two cats–June and Abe–or at their favorite bar, Franklin House, enjoying burgers and karaoke.
Sales Manager Barb Smrecansky
Beer
Now that you know a little more about us, check out our current beer selection.